Hey loves – Happy February! Full disclosure, I'm really not feeling the whole Valentine's Day thing this year. Being single, just makes it not as fun. However, I'm choosing to change my focus to the people that help me through the hard times and are always with me for the fun – my gals!
Rug // Pillow // Wristlet // Trinket Tower // Coffee Thermal Travel Mug // Jewelry Dish // Bracelet // Notebooks // Heart Tumbler
I've heard of Galentine's Day parties before, but never attended one and to be perfectly honest with you, I thought the whole idea was kinda lame. But I've learned that as you get older, yes I'm getting on my soapbox for a minute, true friendships are hard to come by and you should really value and appreciate the women that you have in your lives. Ok, stepping down now….
So for those of you who love your gals…throw your parties, celebrate each other! Hell, I may even throw my own! And shop this Galentine's Day gift guide, I found some really cute things, that I think you're gonna love. Oh and if you're throwing a party, you always have to save money for the appetizers and wine, so most of these are under $20!! You're welcome! 🙂
How adorable is this trinket tower? I would use it for jewelry, rings, etc. But you could totally use it at a party and put appetizer on it or cute little cupcakes.
Everyone can use a thermal travel mug, but one that is pink and gold! Who wouldn't want that!?
This tumbler looks identical to the Kate Spade ones, but would you believe it's only $13!
I'm obsessed with this cute love rug! How perfect would it be for your friend's office, under their desk.
This beautiful "Love" rose gold bracelet makes a great gift for your bestie.
What would you give your gals?
As always, thanks for reading and be sure to enter our giveaway for a $1K Nordstrom gift card!
xoxo, Hillary
Shop the post and other cute gift ideas:
This post contains affiliate links. As always, thank you so much for supporting the brands that support Style in a Small Town!
Continuing with the Valentine's Day theme….I'm so excited to be teaming up with some of my favorite bloggers to bring you a Nordstrom Giveaway. One lucky reader will win a
$1,000 gift card to Nordstrom!
To enter, please use the widget below: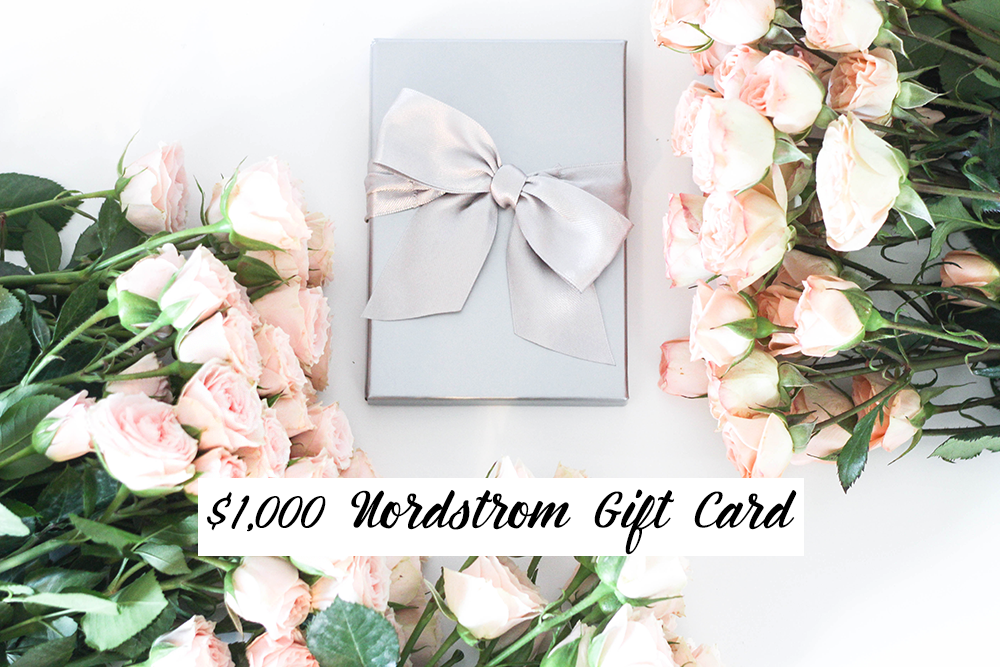 Money Can Buy Lipstick | Mash Elle | Ashley Brooke Nicholas | Diary of a Debutante | Sunshine & Stilettos
Cameron Proffitt | The Styled Fox | A Lo Profile | Visions of Vogue | Inspiration For Moms
The Girl In The Yellow Dress | By Brittani Lauren | A Vintage Splendor | Coming Up Roses | xoxoBella

Style in a Small Town | Sunflowers and Stilettos | Karlie Rae | Audrey Madison Stowe | Nines to 5
Laura Wears | Blush & Blooms | Fashion and Frills | Here's The Skinny | Adored by Alex

Sunsets and Stilettos | Ashley's Passion for Fashion | Coffee Beans and Bobby Pins | Sophistifunk | Life Lutzurious
My Life Well Loved | January Hart | Glitter & Spice | The Blue Hydrangeas | A Gallon of Glitter

Stilettos and Diapers | Styled Adventures | Toreys Treasures | Petite Style Script | Marvelous in the Midwest
a Rafflecopter giveaway

You are sure to discover some amazing bloggers you may not already be following! Good luck!